Appointment Reminders – Send a simple text message to an individual to remind them of their scheduled appointment. Anyone that works by appointment understands very well what it's like to be stood up, but it happens. Because you're dealing with human beings, you can never totally eliminate people missing appointments. Our Appointment Manager tool will help you take control of your scheduled appointments.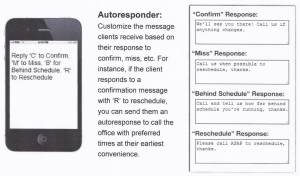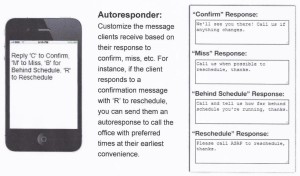 Who Benefits From Appointment Reminders
Everyone that works by appointment, hairdressers, manicurists, medical and dental professionals, heating and cooling, plumbers, carpet cleaners, dog groomer's the list is endless. It's all about reducing no-shows so if you work by appointment and no shows are costing you money, our Appointment Manager tool will benefit your business.
How Does it Work?
It's very simple to use. With the Appointment Manager tool you can schedule the appointment reminder for any time in the future. At the scheduled time, your Appointment Manager sends a text message to your client reminding them of the date and time of the appointment and they can respond back to either confirm or cancel that appointment. Customers that can not make their appointments can be quickly rescheduled resulting in a dramatic decrease in cancellations and no-shows.